Thanks to all who entered in the 2022 Flower Show. Our preliminary list of winners is here! Professional photos will be coming later this year.
Our Flower Show, held during our Hawaiian Plumeria Festival in Balboa Park every Labor Day weekend, is the largest adjudicated plumeria flower show in the world (that we know of). Since its beginning, the number of entries has expanded from a hundred to near-thousands.
For 2023, we have have brought back Display Classes such as photography, floral arrangements, and lei making.
The People's Choice award will return this year and festival attendees can vote for their favorite in the Casa del Prado courtyard on Saturday September 3 from 12 noon until 3pm.
Flower Show Viewing Hours
Sunday September 3th: 10 AM – 2 PM  
Please note that we are only open on Saturday September 2nd to exhibitors entering blooms in the morning and will be closing for judging at noon. We will open to the public for viewing when all judging is complete; there is no guarantee that the Flower Show will be open on Saturday.
Entry Information
Anyone may enter; need not be an SCPS member
No cost to enter
Entries accepted Saturday as soon as we can get the room staffed after the Casa del Prado opens at 8:00 am. Entries will be accepted until 11 am on Saturday.
For bloom and inflorescence classifications, please see Flower Show Classifications
Download Flower Show tag:
Download Flower Show Display Class for People's Choice tag:
IMPORTANT: Make sure you cut the tags exactly 2¾" wide and 5½" long!
Download the Flower Show Color Reference guide, with directions on which blooms to enter in which category.
Please keep in mind that there are separate categories for seedling entries. A seedling is a plant grown from a seed by the exhibitor. Plants grown from sports or acquired as anything other than a seed (a cutting from the dump in Hawaii or a sport) should all be entered in sections I through V. If you did not nurture that tiny little plumeria seed into a full-grown plant, you should not be entering in Sections VI, VII, VIII, or IX and your entry can be disqualified. But you can still enter it in Sections I, II, III, IV or V (except Class 8). Growing seedlings takes hard work and persistence and seedling developers get separate classes to recognize their hard work.
If you're still having problems figuring out which category to enter, check out the Flower Show Entry flowchart or our infographic.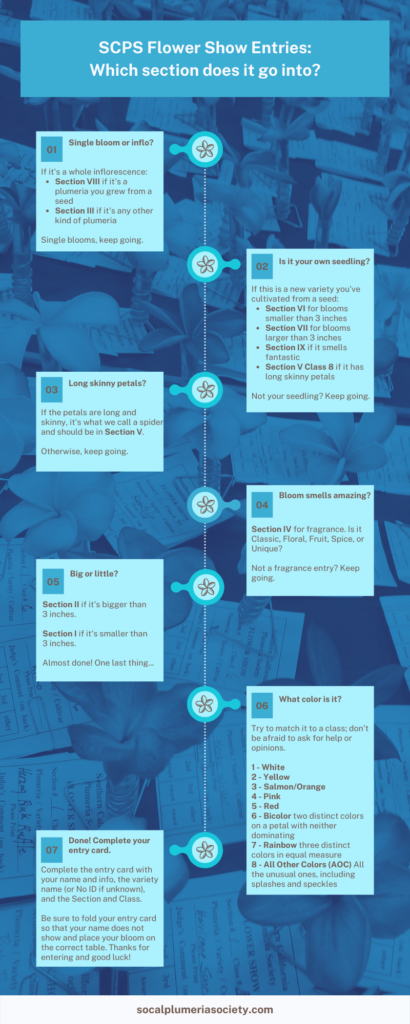 Please bring as many blooms and inflorescences as you can. Flower entered in general classes can have a duplicate (second) flower entered in the Scent Division.
While there is no limit on the number of blooms you can enter, you may only enter one bloom of each variety in a single class. You're not allowed to dump one tree's worth of blooms in one Section and Class in hopes of getting a prize.
You CAN enter blooms that are unidentified. Just put "Unknown" or "No ID" in the name field on the form. We provide all the single flower vases, the tumblers for the inflorescences, and entry tags.
JUDGING for all classes will begin at noon on Saturday.
AWARDS Rosette ribbons will be awarded to each entry that is judged the Best in Section and Best in Display Class. 1st, 2nd, and 3rd Place winners will be awarded ribbons for each class in the Flower Sections. Each Display Class will receive 1st, 2nd, and 3rd. Since the floral arrangement and lei display classes have different classifications, each classification will have 1st, 2nd, and 3rd place ribbons with Rosette ribbon awarded to the best of all classifications . All display classes are not eligible for the Jeanette Mattson Best in Show Award.
The Jeanette Mattson Best in Show Award Eligibility: Only the Best in Section in the Show classes (I through IX, excluding Display classes) are eligible for the Best in Show award.
Rule modification for 2022: A previous Best in Show winner may not win the Best in Show award a second time with the same variety. Before Best in Show judging begins, flower show personnel will check the Best in Section blooms against the list prior winners and varieties to make sure a Best in Section winner of the same variety has not been entered by the same previous winner.
A variety which has won Best in Show previously but is being entered by a different exhibitor may win Best in Show. A previous Best in Show exhibitor who has entered a different variety than their previous winning variety may win Best in Show. We will present the Best in Section awards at our annual luau!
Still have questions? Let's go to the flower show FAQ
Congratulations to Lori Kilmer for winning the 2019 Best In Show with Jeannie Moragne!
The list of 2019 Flower Show winners is here:
Photos of 2019 Flower Show Winners