Plumeria Colors
Q.    This blue one is so pretty! Is it real?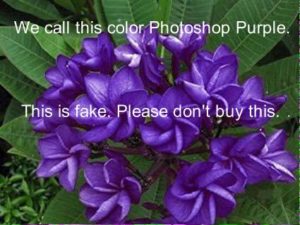 A.    There are no blue plumerias. Run, do not walk, from anyone selling you a blue plumeria. You have our permission to tell them their pants are on fire. eBay sellers are notorious for this.
Q.    Are there any purple plumerias?
A.    This is a stickier question. There are some varieties (Black Purple, Purple Jack, Viola G) that are the closest thing to what we call purple; however, purple snobs point out that without a true blue, you can't really have a true purple and those are shades of magenta. No plumeria has the deep, true purples that we find in irises or pansies. Determine how much of a purple purist you are, and buy your purple varieties in person. Make sure your heat and growing environment matches the grower's, or you may not get the same colors.
Q.    How about black plumerias?
A.    No pure black, but there are some deep reds that can get close to black in intense heat. But if someone's trying to sell you a black plumeria, again, run away from them.
Q.    I bought this beautiful orange plumeria, took it home, and when it bloomed the following year, it was just yellow. What gives?
A.    What's your growing environment like? A lot of the more intense oranges and reds require intense heat to bring them out. If you purchased a plant someone had in a hot inland greenhouse and moved it to a more moderate coastal environment, you may never see those intense oranges without getting your own greenhouse. If you can, always ask how and where the plants were grown when you buy them so you can set your expectations for color in your own environment.
Q.    I bought a cutting that was supposed to be red and it's blooming yellow. The seller is telling me that my fertilizer must be off. What should I be using?
A.    Sorry, there's no fertilizer in the world that will make a red plumeria bloom yellow. Heat can affect intensity of a color, but it won't change the base color.
Plumeria Nomenclature
Q.    What's a NOID? I see this everyone online.
A.    It's an abbreviation for "no identification." It means the owner doesn't know the cultivar name.
Q.    What's an inflo?
A.    Inflo is short for inflorescence, which is the entire cluster of blooms at the end of a stem. It's how plumerias bloom. The stem is actually called a peduncle, if you needed trivia for the day.
Q.    I want to get started in plumerias and seeds look like the cheapest things to start with. Do you have any [variety] seeds?
Q.    I'm looking for a [specific variety]. Do you know who sells that?