Welcome to the Southern California Plumeria Society
We're a friendly group of plumeria plant enthusiasts based in San Diego, California. We host free meetings, a plumeria cutting sale, a Hawaiian Plumeria Festival and a member's only Hawaiian luau.

March 8, 2020 Meeting
This meeting is free and open to the public
Noon – 1 pm
Social Hour and Educational Outreach Fund cutting sales.
Please note that Educational Outreach Fund cuttings are sold as NoIDs. We're unable to guarantee the color or variety.
SCPS Annual Cutting Sale vendor and volunteer sign ups
Vendors, please sign up with Patty Ochenduszko.
Volunteers, please sign up with Terry Walston. Remember, volunteer slots fill up quickly!
1 pm – 3 pm
Presentation: Hawaiian Plumeria History with Ken Sakata
Have you ever wondered about the stories behind some of the most famous Hawaiian plumeria?
Ken Sakata will educate and entertain us with his extensive knowledge of their history.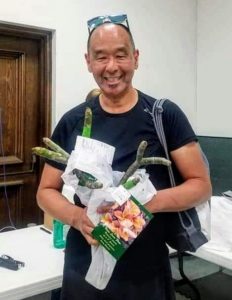 About Ken:
Ken was born and raised in Hawai'i, where both sides of his family immigrated to in the 1890's.
In 1980, Ken first began his studies to traditional hula and as a result, greatly increased his knowledge of Hawaiian culture, language, history and legends. That same year, together with two of his friends, Ken began writing the first of their five books, Pidgin To Da Max, a pidgin English dictionary which would go on to become the best selling locally written book in the history of Hawai'i.
Like most locals, Ken grew up surrounded by plumeria, made and received hundreds of leis and has many fond memories of special trees and colors.
Reminders
Please bring a healthy snack to share.
Educational outreach fund cutting sales (when available) begin at NOON. Cuttings are available on a first come, first served basis.
The meeting will start promptly at 1pm. Please be seated before 1pm.
In order to allow our valued volunteers to enjoy the program, membership, raffle, retail sales and event signups will all be CLOSED from 1 pm until the break.