Welcome to the Southern California Plumeria Society
We're a friendly group of plumeria plant enthusiasts based in San Diego, California. We host free meetings, a plumeria cutting sale, a Hawaiian Plumeria Festival and a members only Hawaiian luau.

Announcements
SCPS is adhering to the County of San Diego Health Orders, thus events and locations are subject to change. Meetings are currently held on the Zoom video platform for members and are streamed to Facebook Live for non-members. We hope to resume in-person meetings in the near future.
Our free Tree Trimming Service is now open! Our expert plumeria tree trimmers will come to your location and observe all relevant COVID-19 protocols while trimming your tree. Click here to schedule an appointment.
We're very sad to report that the SCPS has lost long time member and grower Greg Silverthorn. We were notified in mid-May that Greg had passed away. Our deepest condolences go out to Mary Ann and the rest of the Silverthorn family. Click here to read Mike Atkinson's warm remembrance and a reprise of Kim Schultz's 2011 interview.
June 13, 2021 Virtual Meeting
Ask the Experts Plumeria Panel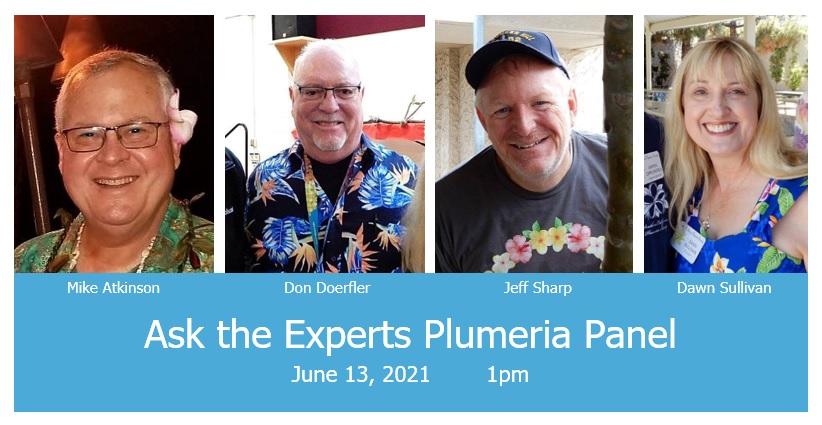 Ever wonder:
"What is this thing on my Plumeria?", or
"What do I do with my Plumeria now?", or
"What in the world did this to my Plumeria?", or
"Why is my Plumeria doing this?"
Then this "Ask the Experts Plumeria Panel" for you!
We would like to solicit your questions and accompanying photos, just send them to info@socalplumeriasociety.com. Please provide any other pertinent information such as age of the Plumeria, variety of the Plumeria (if known), general location (coastal, desert, El Cajon, South Bay, etc.), or anything you think would be helpful for the experts to know.
The Zoom meeting starts at 1 pm. Members will receive an e-newsletter with a link to register. Non-members can watch on Facebook Live.