Welcome to the Southern California Plumeria Society
We're a friendly group of plumeria plant enthusiasts based in San Diego, California. We host free meetings, a plumeria cutting sale, a Hawaiian Plumeria Festival and a member's only Hawaiian luau.
May 19 Meeting
Please note this meeting is the Sunday after Mother's Day.
This meeting is free and open to the public
Presentation
Plumeria: Pests and Other Issues
with Linda M. Ohara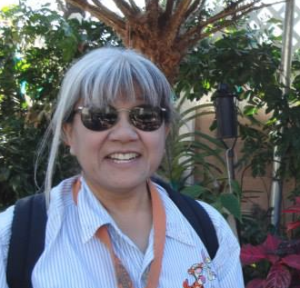 Linda is a second generation nursery person. She was born into the plant business and studied horticulture at Cal Poly, Pomona. Her family had a retail nursery for many decades, which they opened in 1946. Linda and her sister ran the nursery from 1979 – 1997, when they decided to close it. They reside on the nursery property where they have their plumeria collection. Linda and her sister started collecting plumerias in the late 1990s. Linda is currently a laboratory technician at El Camino College.
Linda will give a PowerPoint presentation of plumeria pests such as aphids, leafhoppers, scales, mites, etc and will cover other plumeria issues such as fungus.
Don't forget to 
Bring a healthy dish to share
Buy tickets for the raffle
Stock up on plumeria supplies and gifts at the retail sales tables
We'll have lots of educational outreach cuttings for sale before the meeting!