Welcome to the Southern California Plumeria Society
We're a friendly group of plumeria plant enthusiasts based in San Diego, California. We host free meetings, a plumeria cutting sale, a Hawaiian Plumeria Festival and a members only Hawaiian luau.

Announcements
SCPS is adhering to the County of San Diego Health Orders, thus events and locations are subject to change. Meetings are currently held on the Zoom video platform for members and are streamed to Facebook Live for non-members. We hope to resume in-person meetings in the near future.
Our free Tree Trimming Service is now open! Our expert plumeria tree trimmers will come to your location and observe all relevant COVID-19 protocols while trimming your tree. Click here to schedule an appointment.
May 16, 2021 Virtual Meeting
Presentation: Plumeria Pests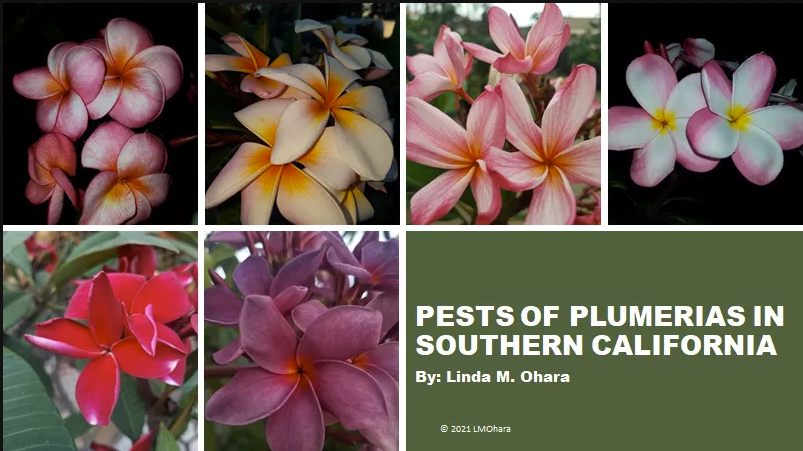 with Linda M. Ohara
Linda will discuss pests that infest plumerias, including three that were discovered at the end of last year and the beginning of this year. She will also show some of the biological controls for these pests.
The Zoom meeting starts at 1 pm. Members will receive an e-newsletter with a link to register. Non-members can watch on Facebook Live.