Welcome to the Southern California Plumeria Society
We're a friendly group of plumeria plant enthusiasts based in San Diego, California. We host free meetings, a plumeria cutting sale, a Hawaiian Plumeria Festival and a members only Hawaiian luau.

Announcements
Plumeria ohana, with great regrets, we're cancelling all in-person events for 2020, including the SCPS Hawaiian Plumeria Festival traditionally held over Labor Day weekend. The health and safety of our community must come first, and in looking at our resources and spaces, we simply can't keep all our vendors, volunteers, entertainers, and guests safe, particularly at an event as large and varied as our festival.

We look forward to hosting our remaining 2020 meetings virtually, but as a 100% volunteer organization, we don't have the capacity to offer a quality online festival in any facet: flower show, plant sale, or entertainment. We look forward to gathering with you in safer times in 2021. Mahalo nui loa.
It's with great sadness that we announce the passing of long time member Lee Horton on July 18. Please read Kim Schultz's remembrance.
August 9, 2020 Virtual Meeting
We miss seeing all our plumeria friends! Although we can't be together physically, we invite you join us on August 9th for our virtual August meeting.
The meeting starts at 1 pm.
Presentation
Disentangling Plumeria Species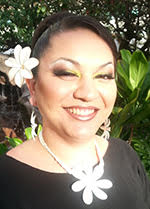 Kauahi Perez, PhD
Kauahi Perez is a fellow Plumeria plant enthusiast who has spent the last 7 years analyzing the DNA and physical plant features of many Plumeria plant samples to determine the best way to identify different Plumeria species. Her findings indicate that no single approach (DNA and physical plant features) can be used to identify species, but rather a combined approach using both physical traits and DNA data will provide a more accurate approach to identifying and verifying Plumeria species. Kauahi is currently working to publish her research findings in an open-access journal. In addition to taking care of her nieces and nephews, she works as a USDA SNAP Store Reviewer for the Information Systems Network Corporation, and enjoys gardening.
Kauahi Perez, PhD
Tropical Plant & Soil Sciences Department
College of Tropical Agriculture and Human Resources
University of Hawaii at Manoa
Members will receive an email with a link to register on Zoom. Zoom meeting participants can ask questions and receive answers in real time.
The meeting will also be live streamed to Facebook.