by Kim Schultz, SCPS Past President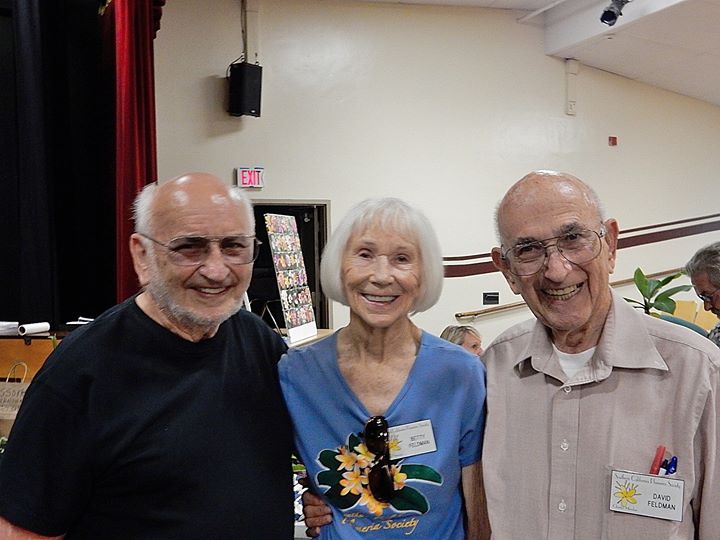 Plumeria ohana, we are sad to report the passing of former SCPS board member and SCPS President's Award winner Betty Feldman on Saturday, June 6th. She was ninety and a half. She and her husband Dave, who preceded her in death in March 2019, were longtime members of SCPS. Betty served as Publicity chair, making sure the meetings and sale events were posted in every local library and the local newspapers (and once, memorably, in Sunset magazine). Betty renamed the "Annual Plumeria Plant Sale and Show" the "Hawaiian Plumeria Festival" when she shrewdly noted that flower sales and shows did not get print coverage, but festivals always did—and she gave us a new goal to shoot for in terms of expanding our Labor Day event, even if it took us a few years to grow up to that name.
Betty also clinched the first television coverage of our annual plumeria festival. Her press release brought Dave Scott from KUSI to Balboa Park on a sale Saturday with no idea where in Balboa Park the sale was. Mike Atkinson heard Dave Scott was there, threw some blooming plants in a cart, grabbed Joy Herzog, and walked into sale television coverage history, but Betty's press release got Dave Scott to the park that day.
Betty also advocated for SCPS investing in ornamental horticulture scholarship programs to make sure garden designers and landscapers understood how easy it was to integrate plumeria in residential and commercial landscapes. Betty and Dave were among the original organizers of the annual SCPS flower show. In her last days, she asked that her bed be set up at home so she could look out into her plumeria garden to see the first blooms of the year.
Due to COVID-19 restrictions, a celebration of Dave and Betty's life together will be scheduled in early 2021; we will let you know when that is scheduled. The family has requested that in lieu of flowers, donations may be made to SCPS to help spread Betty's love of plumeria. Checks payable to SCPS may be sent to:
SCPS
1345 Encinitas Blvd #807
Encinitas, CA 92024