Display Class V
Plumeria Lei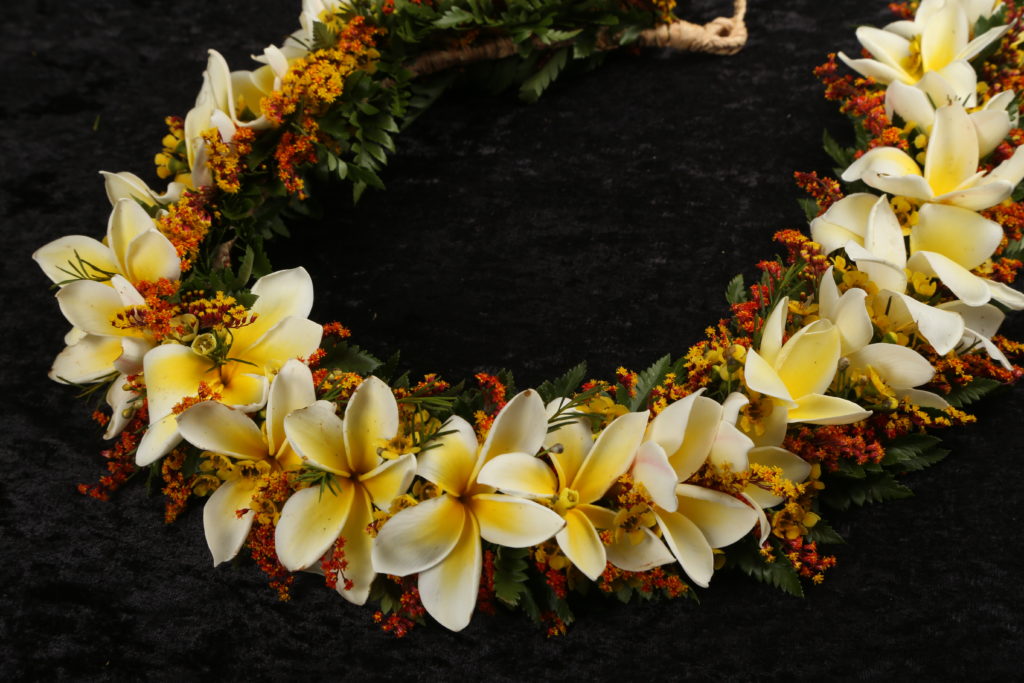 Classification not open in 2022, planning for return in 2023.
Limit of 2 Lei entries per person
NEW: This year you have the opportunity to submit in TWO Plumeria Lei Display Classes – a smaller "lei po'o" (head lei) and the longer "lei a'i" (traditional neck lei).
There will be a total of 8 judging opportunities! There will be four methods of lei making/classifications (Haku, Humupapa, Kui, and Wili) for both LEI PO'O (between 19 to 22 inches long) and LEI A'I (between 30 to 36 inches long). Measurements do not include 2-inch loop and 2-inch tail.
Plumeria Lei Measurements:
All Lei must have a 2-inch loop (for hanging) at the top; with a 2-inch tail at the bottom end (this identifies the top and bottom of the lei). Lei need to be left untied. Measurement will be taken from the knot of the 2-inch loop to the knot at the end of the lei.
Lei Po'o (head lei):
The length of the Lei must be a minimum of 19 inches and maximum of 22 inches long. Does not include 2-inch loop and 2-inch tail.
Lei A'i (neck lei):
The length of the Lei must be a minimum of 30 inches and maximum of 36 inches long. Does not include 2-inch loop and 2-inch tail.
Plumeria Lei Requirements:
All Plumeria Lei must contain Plumeria blooms as its common element.
All Lei shall be made with natural plant materials and limited to flowers, leaves, stems, roots, fruits, pods and seeds.
Lei using non-natural material, artificial treatment, or coloring of natural materials are not allowed.
String, thread, yarn or dental floss may be used in the construction of the Lei, but NO WIRE OR TAPE.
No endangered materials shall be used.
Four METHODS of Lei Making:
HAKU (mounted):  Braiding flowers, leaves, and/or fruit in a three-strand plait of fern, lau ki (ti leaf), hau fiber, etc
HUMUPAPA (basting): Plant materials are sewn to a foundation of dried banana. To sew to a backing fiber, lauhala, lau ki or other suitable materials
KUI (piercing):  Flowers strung together through the center or sides. To string pierced objects, as flowers in a lei.
WILI (twisted):  Plant materials are placed on a backing of lau ki, lauhala, twisted dried banana fiber or other suitable material and wound with fiber or thread around the plant material and backing to bind them together.
Registration Information:
If you are entering a Lei, please complete the registration form below no later than August 21st  so that the display area can be prepared. Each Lei will be accompanied by an entry form and submitted by the exhibitor from 0800-1100 AM on Saturday, August  31st.  Be sure to list the plant/floral/natural material used in the Lei on each entry form, as well as the style (as listed above).
Download Flower Show Display Class tag: 
Miscellaneous Lei Information
Leis must be picked up on Sunday at 2 PM. If not picked up, they will become property of the Flower Show and donated. There is a limit of 2 Lei entries per person.
See the July and August SCPS Journals for descriptions and samples. Each classification will have ribbons for the top 3 winners with a Rosette ribbon awarded for the overall Best in Display Class.
Check the latest SCPS Newsletter, SCPS website or Facebook page for any last-minute changes in guidelines.